Medium
Size
From
Watercolour
A5
$100
A4
$150
A3
$225
Pastel
A5
$100
A4
$150
A3
$225
Coloured Pencil /
Mixed Media
A5
$100
A4
$150
A3
$225
Oil / Acrylic
10″ x 12″
$200
12″ x 12″
$230
12″ x 16″
$260
16″ x 16″
$290
12″ x 24″
$330
All prices in AUD
*Prices are for one animal/person, head and shoulders. Additional figures, backgrounds, unusual compositions – prices on request
*Custom sizes also available – prices on request
*Unframed watercolour/pastel/coloured pencil portraits are shipped with a mat to fit a standard size frame
*Shipping costs will be quoted once size and medium is confirmed
Taking the perfect photo of your pet
•Photos which are ideal for pet portraits should be:
•Taken outside in natural daylight
• Perfectly in focus, with the pet close in the frame for a head and shoulders portrait
• Free of collars, coats, accessories and other paraphernalia which may obscure or affect the natural pattern of the hair/fur. A collar can be included if it is of particular sentimental value.
[tb-dynamic-container provider=" source=" field=" removeDeadLinkTarget="true"]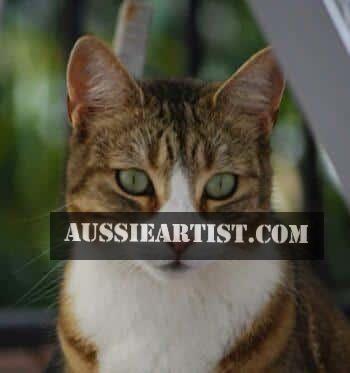 [/tb-dynamic-container]
[tb-dynamic-container provider=" source=" field=" removeDeadLinkTarget="true"]
[/tb-dynamic-container]
In order to hold your pet's attention, try having someone behind you holding a ball or a treat in the air while you take the photo.
Another very important tip is to take the photo at your pet's eye level, instead of looking down at them. You can do this by sitting or lying on the ground or by placing the pet on a chair, wall or table to bring them up to your level.
Take as many photos as you can and discard any that are clearly unsuitable. This will give a greater variety and show more of the animal's natural colouring and also their character.
These days, most mobile phones are entirely capable of taking good photos as long as you avoid using the digital zoom feature which will decrease the resolution of the photo. Please send the original picture at the original resolution. Screen shots, and copies of photos posted on Facebook are automatically resized and are therefore unsuitable. If your email programme gives you the option of resizing a photo, please select the original resolution.

If it is not possible to photograph your pet outside in daylight, please ensure your lighting is adequate (as bright as possible) and that the focus is sharp and the colours depicted are accurate. Never use the flash as this will obscure the most important feature – the pet's eyes.

Photos without collars are preferable but if your pet has a particular favourite accessory or toy that you would like included, please advise us of this and make sure the item is also well defined and in focus in your photo.

Please feel free to email any photos you would like to consider and we can advise you of their suitability for a portrait.